OpenTherm Thermostat
€ 30.00
Quantity:
Shipping from the EU.
Smart WiFi OpenTherm Thermostat
Smart WiFi OpenTherm Thermostat with remote control for a cheap price and without any monthly costs. It supports all OpenTherm compatible boilers, has Home Assistant integration. Assembled and firmware flashed.

Boilers Compatibility
OpenTherm Thermostat is compatible with all boiler those have OpenTherm protocol support.
Easy Assembly
Just connect the thermostat to a boiler using 2 wires and power via any micro USB power adapter.
Simple configuration
Use WiFi Manager to setup WiFi connection. Select the Bluetooth temperature sensor or solder wires for DS18B20 temperature sensor.
OpenTherm Protocol Compatibility
The thermostat is compatible with all OpenTherm Protocol versions from the earliest to the latest.
Web interface
OpenTherm thermostat has it's own web interface, which simplifies configuration and provides remote control from your smartphone or computer
Home Assistant integration
The Smart Thermostat has Home Assistant integration which gives you remote control via Home Assistant application. Home automation, heating schedule using scenarios. Usage graphs.
OpenTherm Thermostat Connection
The thermostat connection is made as simple as possible. Just use 2 wires for the boiler connection and a micro USB charger as a power source.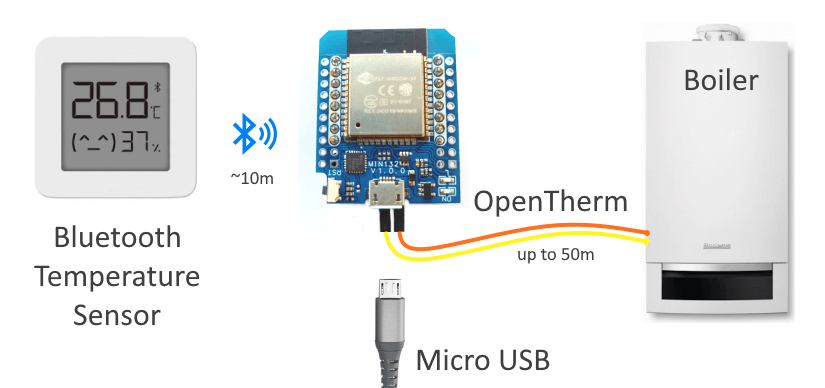 Optional. If you want to use built-in DS18B20 temperature sensor and wired connection you can solder it using wires up to 20m long.
Use two wires (up to 50m long) to connect the thermostat to an OpenTherm compatible boiler
Connect any micro USB charger as a power source for OT Thermostat.
Smart Thermostat Interface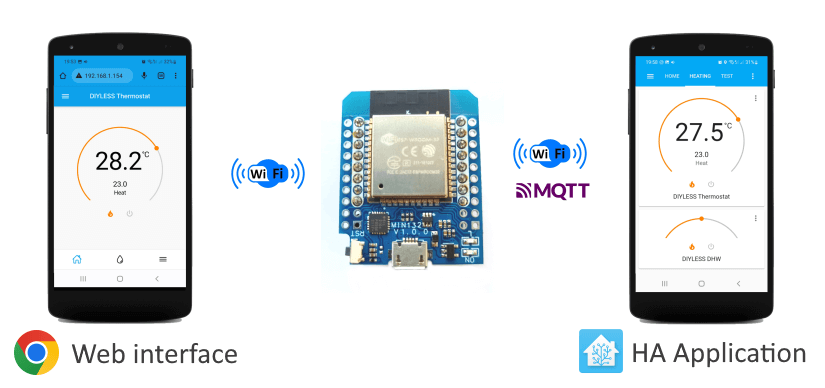 Thermostat Web interface. Access using web browser by the thermostat IP address: http://xxx.xxx.xxx.xxx
Home Assistant application. Web access for desktop or native mobile application for iOS or Android.
Custom interface implementation using MQTT protocol
In order to use thermostat you will need to configure at least WiFi connectivity first
Micro USB changer, thermostat-boiler wires are not included.
| Shipping method | Estimated Time | Fees |
| --- | --- | --- |
| | 12-15 days | €5.5 |