OpenTherm Thermostat 2
€ 38.00
Smart OpenTherm Thermostat with Home Assistant integration. Compatible with all OpenTherm boilers. Remote control over WiFi. An energy saving room thermostat with a remote sensor and weekly schedule helps you cut energy costs and level up home comfort.
Quantity:
Shipping from the EU.
Smart Room
OpenTherm Thermostat
The Smart OpenTherm Thermostat is a great way to save energy, improve comfort, and add convenience to your home. If you are looking for a way to improve your home's heating system, it is a great option.

Order Now
Key Features
With OpenTherm Thermostat ability to optimize heating systems, remote access, customizable schedules, and integration with other smart home devices, it's a must-have for modern homeowners.
Energy savings & comfort
Smart OpenTherm thermostat can help you save energy by communicating with your boiler to adjust its output based on the current room temperature. This allows the boiler to operate more efficiently, as it only needs to produce as much heat as is necessary to maintain the desired temperature. It keeps a consistent room temperature and compensates for changes in the outside temperature.
Remote Access & Control
Central heating thermostat can be controlled remotely via web interface or home automation integration, so you can adjust your heating from anywhere. This is especially useful if you are away from home.
Integration with Smart Home Systems
The Smart Thermostat has Home Assistant integration which gives you remote control via Home Assistant application. Home automation, heating schedule using scenarios.
In general, you can integrate the smart thermostat into any home automation system using MQTT protocol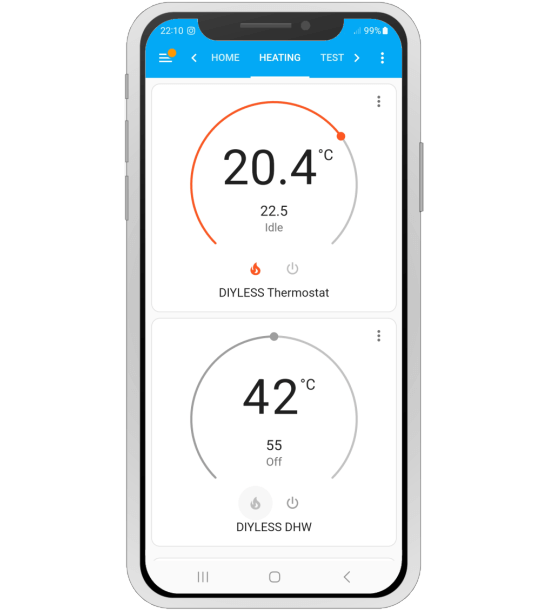 OpenTherm Thermostat Connection
The OpenTherm thermostat connection is made as simple as possible
Just use 2 wires for the boiler connection (find OT terminal block on the boiler and Boiler terminal block on the thermostat) and a USB Type-C charger as a power source.
More Features
By investing in this smart technology, you not only make your daily life more comfortable but also contribute to a greener and more sustainable future.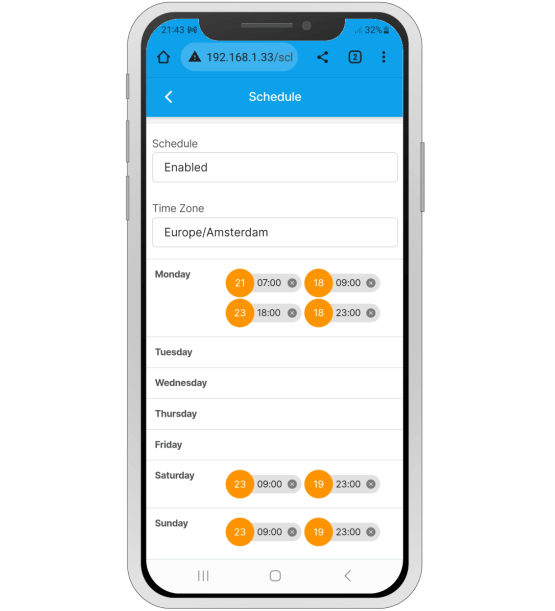 Customizable Schedules
The smart thermostat allows you to create personalized heating schedules that align with your daily routine. You can set different temperatures for various times of the day or week, ensuring that your home is always comfortable when you need it to be.
OpenTherm boilers compatibility
OpenTherm Thermostat is compatible with all boilers those have OpenTherm protocol support.
The smart home thermostat works with all versions of the OpenTherm protocol.
Easy installation & Configuration
Just connect the thermostat to a boiler using 2 wires and power via any USB Type-C power adapter. Use WiFi Manager to setup WiFi connection. Choose an appropriate room temperature sensor.
DIYLESS Thermostat Controls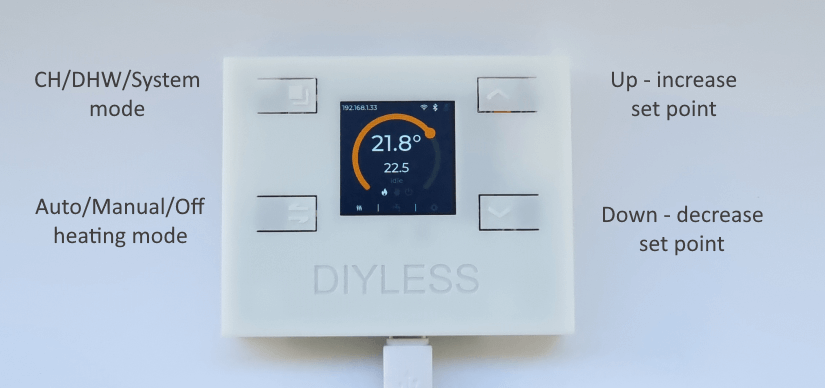 Switch thermostat mode/screen CH - central heating mode, DHW - domestic hot water preparation mode, System - system information
Switch heating mode - Auto (smart heating control), Manual (manual boiler setpoint), Off (turn off central heating)
Reset hole - can be used to reboot thermostat
Up button - increase setpoint (long press - quick change)
Down button - decrease setpoint (long press - quick change)
Smart Thermostat Display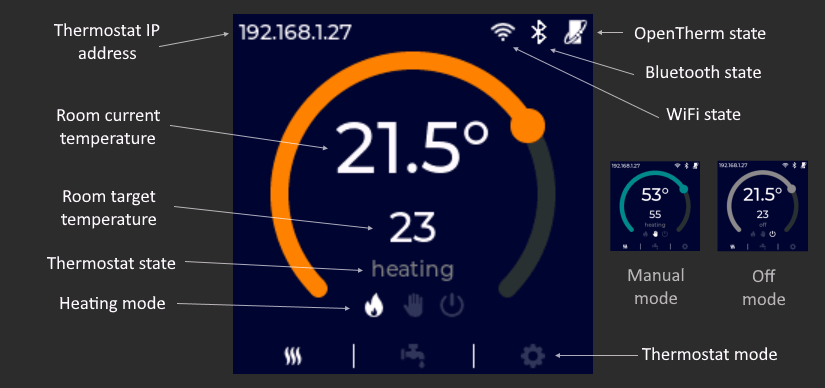 Thermostat IP address can be used to access the thermostat web interface using web browser
Room current temperature - current ambient temperature in the room where the smart thermostat is installed.
Room target temperature - the temperature your thermostat is set to (setpoint)
Thermostat state - Heating (flame on), Idle (flame off), Off (the thermostat is turned off)
Heating mode - Auto (smart control), Manual (set boiler setpoint), Off (turn off the thermostat)
OpenTherm state - OpenTherm connection is active
Bluetooth state - Bluetooth connection with temperature sensor is active
WiFi state - WiFi connnection is active
Thermostat mode - Central heating, Domestic Hot Water, System information
WiFi Thermostat Web Interface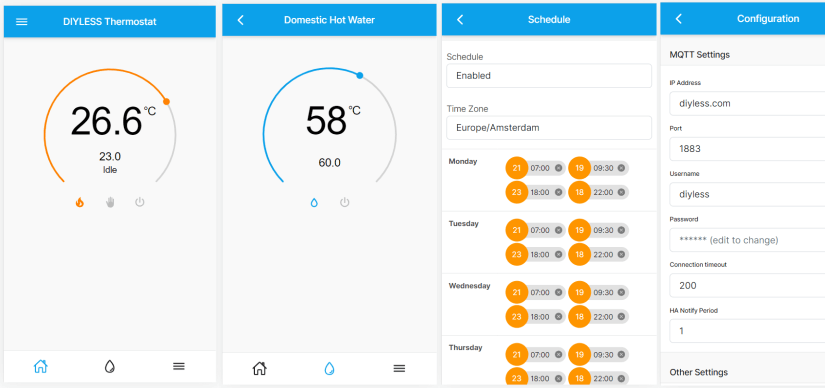 Wi-Fi Thermostat Web interface. Access using web browser by the thermostat IP address: http://xxx.xxx.xxx.xxx
Central heating control page (Auto, Manual, Off modes).
Domesting Hot Water preparation page (On, Off modes)
Schedule page. Enable/disable shedule, select time zone, add weekly setpoints for each day
Configuration page. MQTT, OpenTherm, heating control, temperature sensor settings...
Thermostat Home Assistant Integration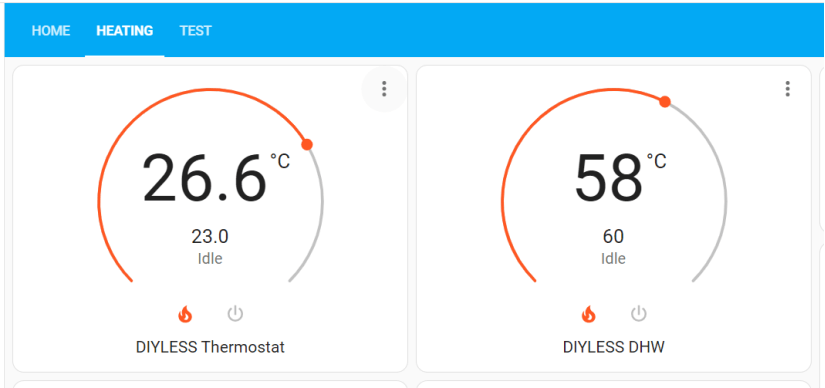 Home Assistant application. Web access for desktop or native mobile application for iOS or Android.
Easy to add central heating and DHW cards using Home Assistant auto discovery feature
Detailed thermostat state and control over MQTT protocol
MQTT remote temperature sensor option
Popular Questions
We use Standard International Shipping method, usually it takes about 12-15 days and costs €5.5
Shipping from the EU, no additional fees for the EU countries. If you are outside the EU taxes of your country will apply.
Stock firmware is not open source, but you can write your own firmware adding new cool features that fits your needs the best. DIYLESS Thermostat is based on Espressif's ESP32-S3 Soc, which enables BLE/WiFi connectivity and allows writing a firmware using Arduino IDE, VS Code or IDF (Eclipse) IDE.
Enjoy With Room Thermostat
This room thermostat is just as smart as other well-known smart thermostats, but comes at an affordable price. So, take control of your heating system and embrace the benefits of a DIYLESS Smart OpenTherm Thermostat today.
Buy Now